As promised, I managed to process some photos of the WarMachine Cygnar commission.  This is a basic tabletop commission to add on to an existing army. I've been using the box art as a guide.
This first guy is the Journeyman Warcaster.  I started with him to get a feel for the colors and how things would go.
These are the Stormblade Infantry. They were tough to assemble. The bodies and legs have flat surfaces without locking areas and were cast in metal ( I think they come in plastic as well).  This is good because you can position them in a variety of ways but on the downside they need to be pinned…. especially if they're going to travel. Even with the assembly being a pain, they were really fun to paint.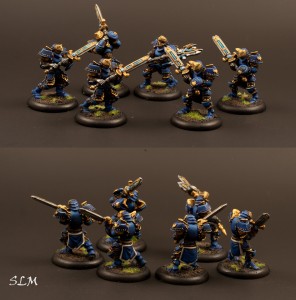 I then moved on to a little Squire. I love the blue and white color scheme of the Cygnar army.
Captain Arlan Strangeways is another fun character.  I don't know how these characters are used in game, but I can imagine that this guy can do some damage.
Lord Commander Stryker.
I mentioned in my last post that I've been playing with a DSLR.  There's so much more depth to the pictures and the colors are spot on. I barely have to do any tweaking in Photoshop.  I can also see that there may be too much light reflected and I definitely need more practice with the camera and lighting set up.