I thought I was going to be able to update this commission in chunks, but the new camera setup is a bit of a challenge so it was easier to finish the project, then play with pics.  I know I already posted some complete pics but I'm going to show them all so the complete commission is all on one page.
It's rather noticeable that I've been still experimenting with lighting. I think I've gotten closer to what I want but it's still a great learning experience.
Journeyman Warcaster
Stormblade Infantry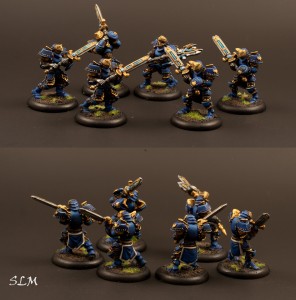 Stormblade Infantry Storm Gunner
Squire
Captain Arlan Strangeways
Lord Commander Stryker
Artificer General Nemo and Storm Chaser Adept Caitlin Finch
Storm Blade Lieutenant and Standard – Cygnar Unit Attachment
I wasn't asked for any freehand but I can't resist an empty banner so I painted simple insignia.
Storm Strider
This guy was a beast to paint. I decided on putting small magnets in the machine's feet and gluing stronger magnets to the bottom of the base. It was an afterthought, otherwise I would have sculpted the magnets in the base. The magnets are just strong enough to hold the base to the model. I just didn't like the idea of gluing the whole thing together. The free standing guy on top (the right side) also has a magnet in one foot to keep him from tipping over without being glued to the Strider.
I think they look pretty spiffy here.