I was asked to paint up some alien ships called Invaders that are for the Dystopian Wars game. I've painted all sorts of ships so far and these were delightfully different.
I finished these a couple of weeks ago. They are at their new home and are well loved. A second, duplicate set will come from the same customer that I'll paint in a different scheme.
I did the under painting with acrylics and then went back over with oil paints with a little metallic pigments mixed in to match the color. This gives the ships a beetle like sheen.
These Predator Class Bombers were the first to get painted so I can fiddle with a color scheme. They rest on their flight bases rather nicely and don't need to be glued in or magnetized.
The Scarab Class Hive Ship was the next to be painted. I really like how the pigments make this look organic yet alien. I magnetized the weapons but, like the Bombers, it balances on the flight base rather nicely.
Next up were the Sentinal Class Cruisers. These were a bit tricky as I believe there were missing pieces from underneath the body where the legs attach. There were no sockets for the legs or the weapon so I mixed up some Milliput and sculpted something that would hold magnets for the legs and create a space for the weapon.
The water bases were sculpted with Milliput, painted, and then Vallejo Water Effects were laid over to resemble choppy ocean water.
Along the same lines, but much smaller, are the Terror Class Frigates.  I tried to magnetize the legs on these but the metal bodies were too heavy and would swivel and collapse the legs. I found some scraps of half round wire and pinned the legs. The half round keeps the legs from turning but they can still be taken out of the model for storing and transporting safely. The water effects also makes a decent gasket for the bottom of the feet, further stabilizing these leggy alien ships.
The last bunch are the Tiny Flier Tokens. There are thirty with three on each token.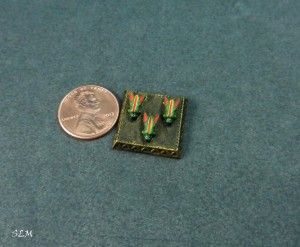 For comparison, here's the group pic. It doesn't seem like much but after sculpting, pinning, magnetizing, and painting tiny stripes, it ended up being a decent amount of work.