This is the last model for this commission. I actually finished it last week but haven't had the time to post pictures here.
I had to come up with a background large enough for this guy. I made the flight stand removable for safer shipping and storage.
Just the other night I decided to get a decent group shot of the whole group. Space and lighting made for taking pictures difficult but I got some in.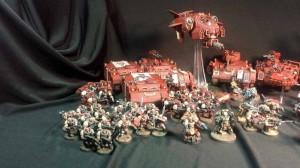 It doesn't look like much when they're all built and painted, but the piles of sprues I received in the beginning were a daunting site. I was fortunate to get help from a friend in building the last few vehicles.
I now have Dystopian Wars Invaders on my desk ready to go. Hopefully I'll have something approved to show in a short time.